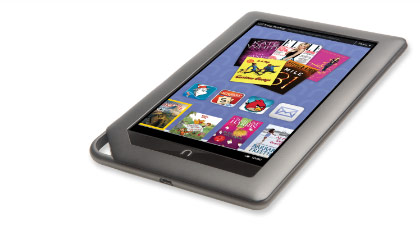 Welcome
You're about to enjoy an incredible reading experience.
We'll help you set up your NOOK Color™ in a few simple steps.
Create a BN.com Account
You will need a BN.com account to register your new NOOK Color. If you do not already have a BN.com account, please create one.
Register with BN.com Now
If you have an existing BN.com account, please be sure you have a default credit card and billing information saved in your account. Sign-in to your account to manage your Credit Card.
Sign in Now
Follow the Setup Instructions Below
Charge your new NOOK Color for 3-hours from a wall outlet using the Power Adapter and USB Cable packed at the bottom of your NOOK Color box.
Turn on your NOOK Color by pressing the power button on the top left side.
Watch the short Welcome video right on your NOOK Color's VividView™ color display.
Read and accept the Terms of Service for your NOOK Color.
Select your Time Zone. If you are outside of North America, please select one of the time zones offered on this page and you can change it to your local time zone in the Settings area of NOOK Color.
Connect to Wi-Fi. Connect automatically and for free at any Barnes & Noble bookstore, use your home Wi-Fi or other Wi-Fi hotspot.
Register your device by entering your BN.com account email and password.
That's it. Have fun exploring your new NOOK Color.