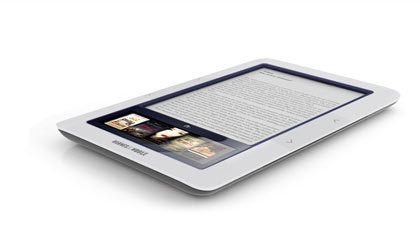 Welcome
You're about to enjoy an incredible reading experience.
We'll help you set up your NOOK 1st Edition™ in a few simple steps.
Create a BN.com Account
You will need a BN.com account to register your new NOOK. If you do not already have a BN.com account, please create one.
Register with BN.com Now
If you have an existing BN.com account, please be sure you have a default credit card and billing information saved in your account. Sign-in to your account to manage your Credit Card.
Sign in Now
Follow the Setup Instructions Below
Charge your new NOOK 3G or NOOK Wi-Fi® for 3-hours from a wall outlet using the Power Adapter and USB Cable packed at the bottom of your NOOK box
Turn on your NOOK by pressing the power button at the top.
Connect to Wi-Fi. Connect automatically and for free at any Barnes & Noble bookstore, all AT&T hotspots or use your home Wi-Fi.
NOOK 3G owners may also check for 3G wireless connectivity.
Register your device by entering your BN.com account email.
Tap the down arrow button in the lower right corner of your color touchscreen.
Enter your BN.com password.
Tap Submit.
We encourage you to read the Tour offered on your NOOK to learn more about the features of your NOOK.
That's it. Have fun exploring your new NOOK.